Visit this artist's website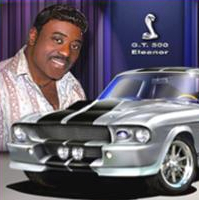 Danny Whitfield
Born and raised in Detroit, Michigan, "Auto Capital of the World," Danny Whitfield started drawing at age 5. After attending the Center of Creative College in Detroit and Macomb County College in Warren, Michigan, he brought his vision of cars in art to the forefront, and has been the key artist in making automotive art a respected form in the industry. He has a magical ability to bring out the beauty of an automobile, and expresses it vividly onto canvas. Danny draws, paints and creates in many other genres of art, from scenic and architectural to portraits. However, his first love is automobiles.
This affinity for the automobile led him to a career with Ford, General Motors and other design firms. Although he enjoyed creating fine art pieces, the art world didn't initially embrace him with open arms. The industry for the most part hadn't expanded its vision yet to see this type of artistry as a valid genre. Since then, and determined not to be held back, Whitfield continued to create his fine art pieces and broadened his efforts to have the automotive art genre be more widely accepted. As a result, he is seen as a key artist in moving this art scene forward. His work has been featured in wall hangings, posters, published in magazines, and highlighted throughout the Internet.
In fact, the growth of social media has spread Whitfield's popularity globally. Strong testaments to Whitfield's acceptance in the industry have included a commission for the National Corvette Museum, and artwork that's been published in car magazines such as Hot Rod, Muscle Mustangs and Fast Fords. Even Jay Leno and Bob Lutz have been clients.
Personalize a print! Let Danny create a print of YOUR car, or email him your requirements.
Works On Exhibit