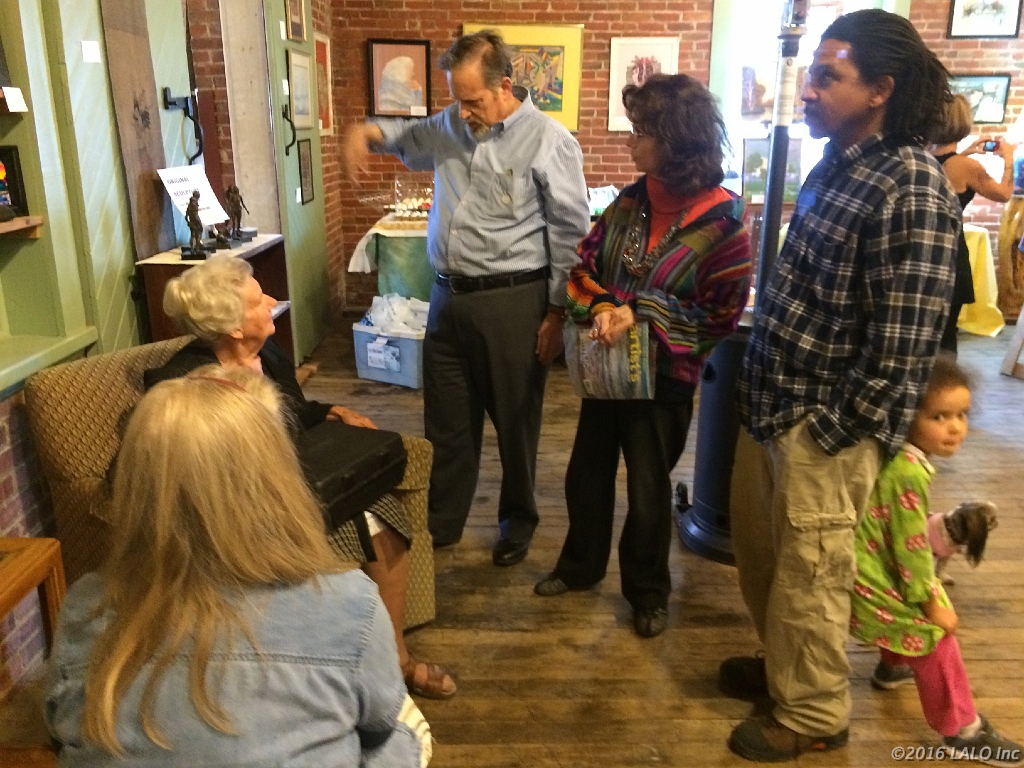 While all of the past Lalo Society events have been addressed only to Lalo Society members and good friends, Lalo had its first Open Reception and Party at the Art Gallery at the Warehouse in Luray, Virginia on Saturday, October 29, 2016 from 2PM to 5PM.
Actual numbers were unavailable because nobody took attendance but estimates are between 50 and 60 people showed up. Many Lalo Society members with relatives, friends and munchies to share enjoyed the beautiful, warm Virginia Fall afternoon.
Great musical accompaniment was supplied by Lalo member Keith Traylor and the Eva Weber Trio.

Kudos also for Jim Mayes and his team from the Warehouse Art Gallery for making all who attended feel at home and for his help in putting the event together. Lalo is pleased to have its Luray gallery (The Studio Bee Gallery) inside the Warehouse. The Expressions Room of the Warehouse was transformed for the October 29, 2016 event by a Lalo team which included

Jennifer Nicholson, Kandi Faris, Bryane and Chips Lickson, and Clive Turner. On the actual day of the event – great art and great artists abounded. For visitors to Luray, the Studio Bee Gallery is crammed full of wonderful art which was assembled for the show and reception.
Originally designated as the Fall 2016 Call to Artists, the program on October 29 went forward as a Reception and Showplace for Lalo member artists. Among Lalo artists present were Barbara Jennings, D.J. Werley, Clive Turner, Karen Weinberg, Deb Schneider, Tom Wible, Donna Coursey, Charlie Markert and Bryane and Chips Lickson. The current exhibit runs through November, 2016.
More pix here…