The first annual Community Day was held at the Northern Virginia 4-H Community and Conference Center in Front Royal on May 21, 2017. Under a cloudy sky and with rain threatening, the beautiful 4-H Center high up in the hills surrounding Front Royal opened its doors to folks from Warren County, Virginia and beyond.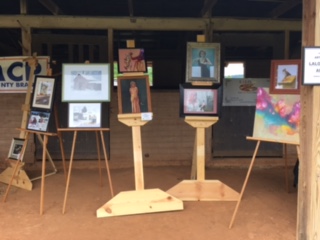 Lalo was there with art and artists Bryane Lickson, Karen Weinberg and Charles "Chips" Lickson. While the crowds were not huge, Lalo made some art sales. "We are happy to be part of this community event," said Bryane Lickson, "and we showed Tom Benjamin, Director of Development and others at the 4-H Center we can be counted on to supply art to our community."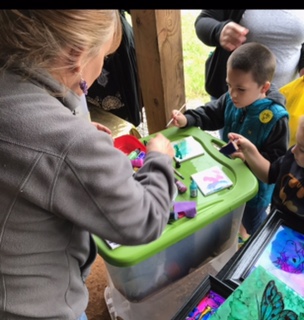 Lalo Artist Karen Weinberg
demonstrated her special alcohol ink artwork and had a good crowd of young people who tried their own skill under Karen's watchful eye. The 4-H Center will also host another all day community event and fireworks show on July 1, 2017 … and Lalo will be among the many vendors and estimated 5,000 people who will be there.