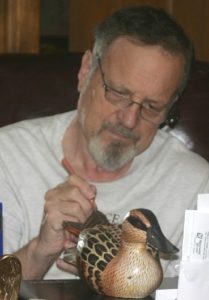 A new organization in support of the arts, artists and collectors launched operations in Front Royal and Luray as 2015 ended. The brainchild of long time Front Royal native Bryane Miller Lickson, herself an artist of national repute, LALO, Inc. is the corporate anagram for "Let Art Live On." Bryane Miller Lickson and her husband, Charles "Chips" Lickson, are the Founders of LALO, Inc., headquartered in Front Royal, Virginia.
"We wanted to be certain that our artworks, original paintings, drawings and sculptures, would not end up in storage, someone's attic or the trash pile," said Mrs. Lickson, Chairperson of the new Company's Board of Directors.
Charles Lickson added, "People can see our art and those of outstanding artists because the Company operates both an online gallery, called "Studio Bee Gallery," on our website http://letartliveon.com and physical galleries in both Front Royal and in Luray."
The Front Royal gallery is located inside JENNerations Hair Studio near Martins Store in the Royal Plaza Shopping Center. Jennifer Nicholson, principal of JENNerations, is also one of the Founding Directors of the Company. A large wall in the waiting area of the Hair Studio is the first location of Studio Bee Gallery in the Town of Front Royal. There are more than 16 original paintings, pastels and drawings are on display there, representing the work of area artists and others.
In Luray, the Studio Bee Gallery is located in the Expressions Room of the Warehouse Art Gallery, a very large facility operated by artist and sculptor Jim Mayes. The Warehouse Art Gallery is on the Artisans Tour of Virginia and contains almost 10,000 square feet of display space. In that gallery, one can see artworks by not only Lalo artists but also artists from all over the Eastern U.S.
"Please visit our galleries online or at our physical locations in both Front Royal and Luray", encouraged the Licksons. "It doesn't cost anything to look, and maybe you'll fall in love with a wonderful piece of art – and, in turn, support the good work of an area artist," they added.
LALO, Inc. also provides an opportunity to join the Lalo Society and support the mission of the new organization, as well as have fun being with fellow artists, art lovers and supporters. Information about membership in the LALO Society can be found on the firm's website, by emailing Charles Lickson, or by calling him at 540-636-2515.